EPIDEMIOLOGY OF EXOGENOUS INTOXICATIONS BY AGRICULTURAL PESTICIDES IN THE STATE OF MINAS GERAIS
Keywords:
Agrochemicals, Poisoning, Indicators of Morbidity and Mortality, Notification, Crop Production
Abstract
Introduction: Exogenous intoxication is the harmful clinical and/or biochemical consequence of exposure followed by the organism's interaction with toxic elements. Brazil is one of the countries that stands out in the use of pesticides, and the state of Minas Gerais is also an important user of these chemicals, thanks to the state's agricultural and livestock economy. Because of their widespread use, exogenous poisoning by pesticides is an important local health problem, which needs to decline, and, for this, it is necessary for health surveillance to act assertively to minimize morbidity and mortality due to health problems in exposed populations, actions to promote and protect health and prevent illness. Objective: To describe the specifics of notifications of exogenous pesticide poisoning in the state of Minas Gerais, Brazil, in the period from 2011 to 2020. Methods: A descriptive epidemiological study was developed, using data from the Health Information Tabulator of the Department of Informatics of the Unified Health System. Clinical and sociodemographic variables related to pesticides, reported in absolute and relative frequencies, were included. Results: 6,727 cases of exogenous pesticide poisoning were reported, among them 5,623 by agricultural products, thus being the main toxic agent (83.5%). The age group most affected was 20-39 years. The circumstance of accidental involvement was the most prevalent (34.8%), followed by the attempted suicide (33.4%). Conclusion: In Minas Gerais, the agricultural production model is responsible for most of the records for exogenous poisoning by pesticides.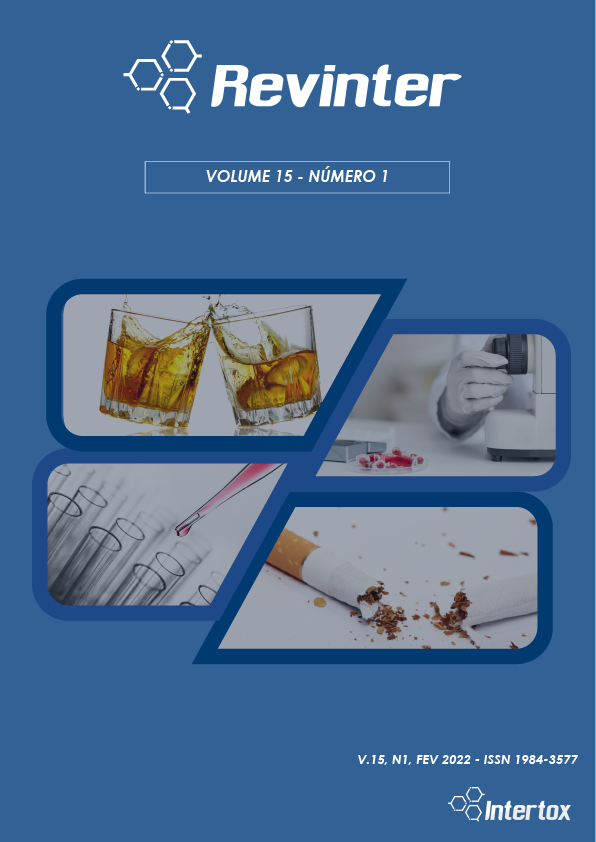 How to Cite
Brito, L. V., Aguiar, P. O. R. de, Manso, P. H. de M., Andrade, V. A. de O., Borges, G., Hattori, W. T., & de Oliveira, S. V. (2022). EPIDEMIOLOGY OF EXOGENOUS INTOXICATIONS BY AGRICULTURAL PESTICIDES IN THE STATE OF MINAS GERAIS. Revista Intertox De Toxicologia, Risco Ambiental E Sociedade, 15(1), 28-37. https://doi.org/10.22280/revintervol15ed1.506
Copyright (c) 2022 Revista Intertox de Toxicologia, Risco Ambiental e Sociedade
This work is licensed under a Creative Commons Attribution 4.0 International License.