Analysis of the action of alpha-terpineol-enriched gel associated with pulsed ultrasound on acute tendonitis in Wistar rats
Geísa de Morais Santana

Universidade Estadual do Piauí

Antonio Luiz Martins Maia Filho

Universidade Estadual do Piau´´i

Danniel Cabral Leão Ferreira

José Figuerêdo Silva

Fernanda Regina de Castro Almeida

Universidade Federal do Piauí

Rosemarie Brandim Marques

Faculdade de Ciências Médicas (FACIME) da Universidade Estadual do Piauí (UESPI).

Antônio Lucas Farias e Silva

Universidade Estadual do Piauí
Abstract
The objective of the present study was to analyze the action of α-terpineol-enriched gel associated with therapeutic ultrasound on the inflammatory process. Tendonitis was induced by transverse compression during 10s with Halstead tweezers on the second rack, as well as ten scarifications, using 72 Rattus norvegicus, Wistar variety rats, divided into four groups: A: Negative Control, B: Alpha-Terpineol-Enriched Gel (Topical Use), C: Alpha-Terpineol-Enriched Gel + Pulsed Ultrasound and D: Pulsatile Ultrasound. Three treatment periods were established, 7, 14 and 21 days and the parameters evaluated in each period were edema and histological analysis. Statistical analysis was performed using the Prisma 5.0 program for one-way ANOVA and t-test analyzes, with a significance level of 5% (p <0.05). Topically applied alpha-terpineol-enriched gel accelerated the tendon repair process in rats with induced tendonitis, especially after seven days, but when associated with pulsed ultrasound, there was a greater potential for tendonitis repair. Keywords: Tendinopathy. Monoterpenes.Phonophoresis.Therapeutic Use.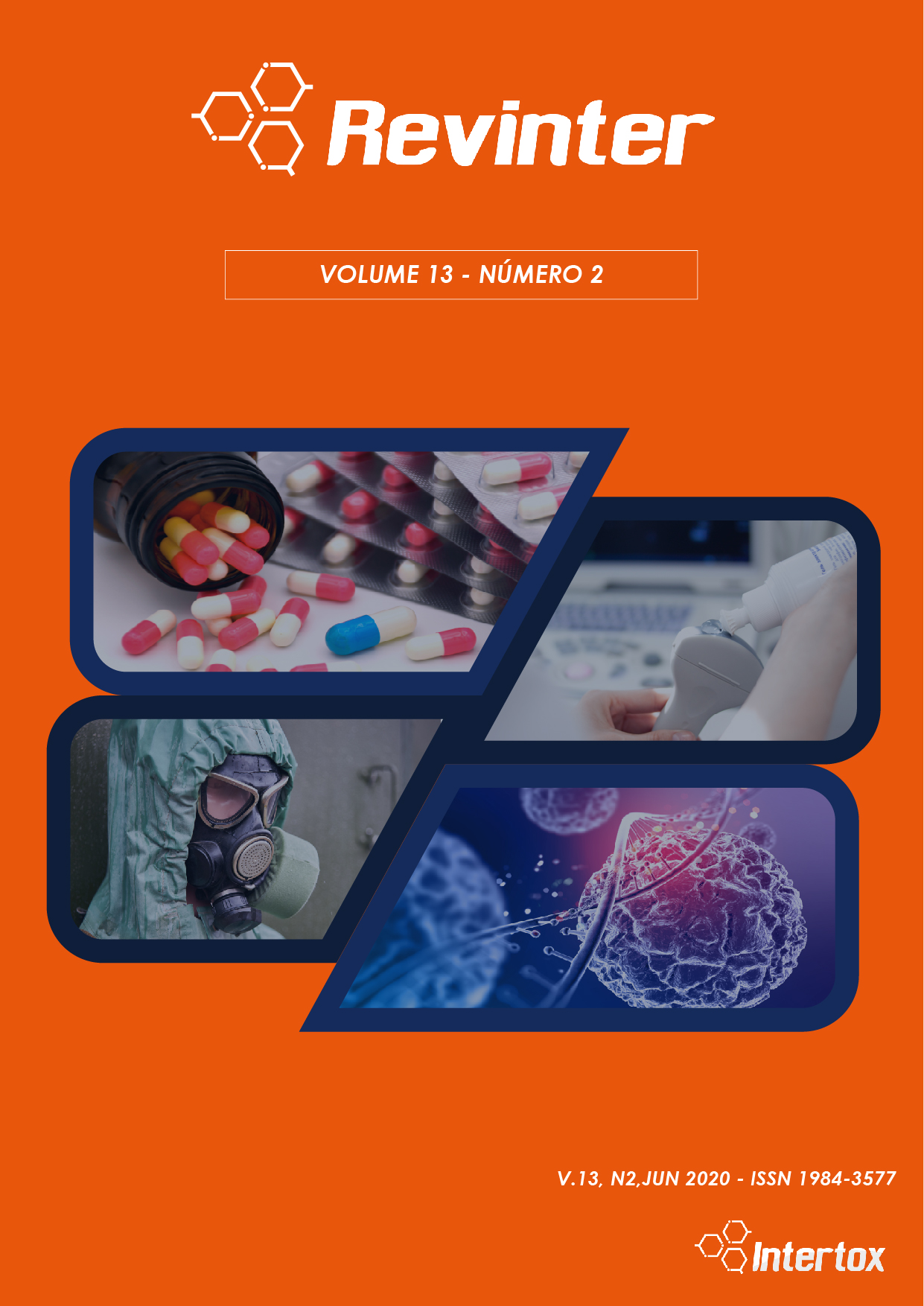 How to Cite
de Morais Santana, G., Martins Maia Filho, A. L., Ferreira, D. C. L., Silva, J. F., de Castro Almeida, F. R., Marques, R. B., & Farias e Silva, A. L. (2020). Analysis of the action of alpha-terpineol-enriched gel associated with pulsed ultrasound on acute tendonitis in Wistar rats, 13(2), 48-57. https://doi.org/10.22280/revintervol13ed2.468
Section
INTERDISCIPLINAR (MEIO AMBIENTE; SOCIAIS E HUMANIDADES; ENGENHARIA/TECNOLOGIA/GESTÃO)
Copyright (c) 2020 Revista Intertox de Toxicologia, Risco Ambiental e Sociedade
This work is licensed under a Creative Commons Attribution 4.0 International License.