Determination of profile and blood alcohol content of fatal traffic accidents victims registered at the legal medical department of municipality of the West region of Rio Grande do Sul
Lidiane Pereira Lampert

Bárbara Osmarin Turra

Regina Rigo Thiel

Alexandre Ehrhardt

Universidade Luterana do Brasil - ULBRA campus Carazinho / RS

http://orcid.org/0000-0002-2434-7215
Abstract
The problems triggered by alcohol consumption associated with management are widely studied and indicate a high prevalence of morbidity and mortality in Brazil, however, there are few, if any, data regarding this type of study in cities in the interior of Rio Grande do Sul. The objective of this study was to analyze the profile of fatal victims of traffic accidents registered in the Carazinho Medical Legal Department (DML), and to highlight the blood alcohol concentration (BAC) detected in the victims, evaluated between positive, negative or impaired alcohol use. The data were collected in the DML file, through autopsy reports, event reports and blood alcohol reports of fatal victims by traffic accident in the period between 2014 and 2016. A total of 112 deaths from traffic accidents were evaluated. Of these, 90 victims were submitted to expert analysis of blood alcohol, and 38 victims (42.2%) presented positive blood alcohol levels with a predominance of males. Analyzing the age range, the predominant age range of the victims in traffic accidents was between 45 and 64 years, but the age group with the highest BAC was adults between 25 and 44 years of age (56%). The days of the week with the highest occurrence of deaths with alcoholic victims were on the weekends, the night shift and dawn. The standard biological sample used for the most frequent blood alcohol concentration was blood. Despite the fact that most of the victims presented negative blood alcohol levels (50%), a significant number of positive blood alcohol levels (42.2%) were found for our region, noting that the association between alcohol consumption and traffic accidents with fatalities is a risk real.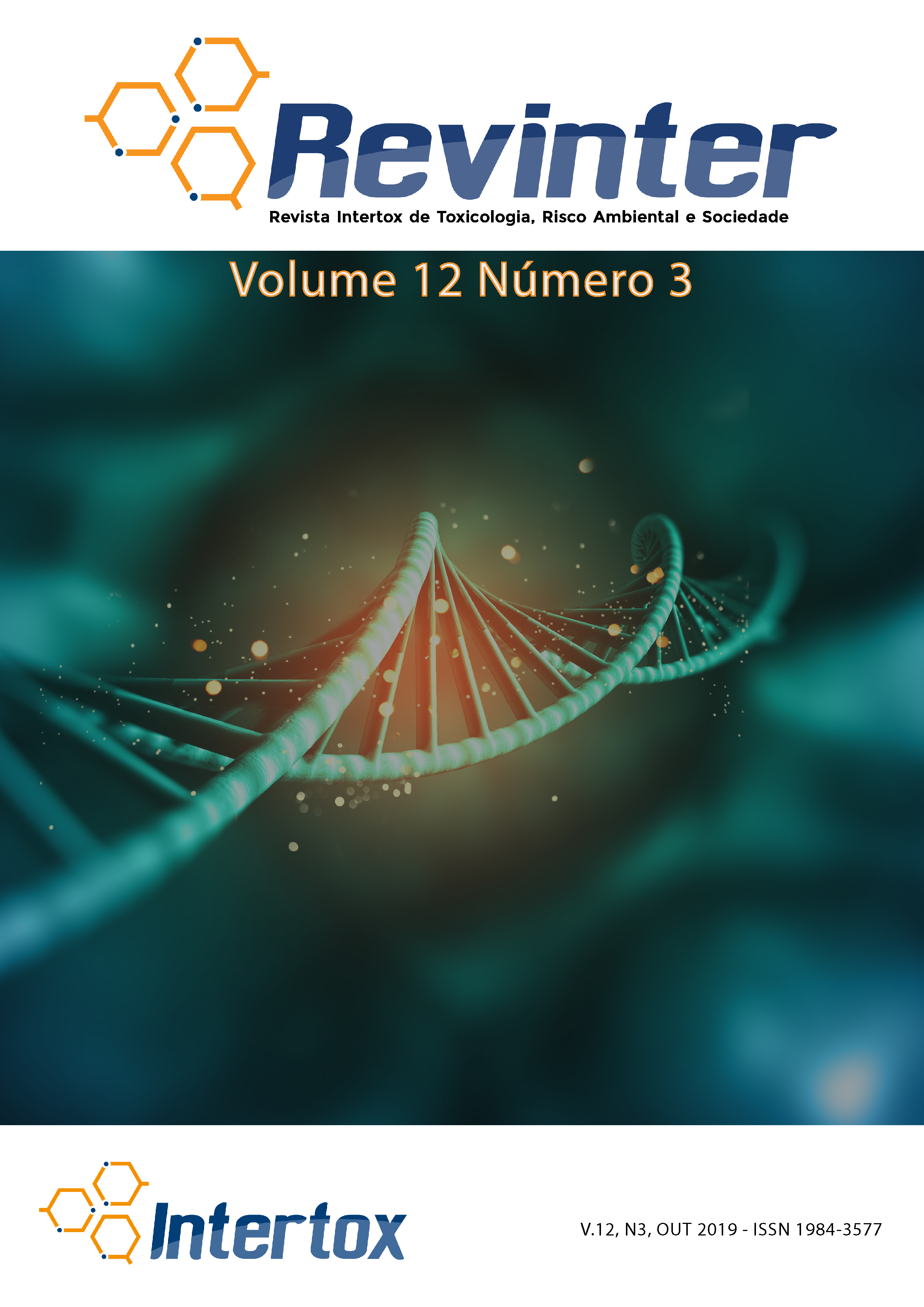 How to Cite
Lampert, L. P., Turra, B. O., Thiel, R. R., & Ehrhardt, A. (2019). Determination of profile and blood alcohol content of fatal traffic accidents victims registered at the legal medical department of municipality of the West region of Rio Grande do Sul, 12(3), 17. https://doi.org/10.22280/revintervol12ed3.458
Section
ARTIGOS ORIGINAIS
Copyright (c) 2019 Revista Intertox de Toxicologia, Risco Ambiental e Sociedade
This work is licensed under a Creative Commons Attribution 4.0 International License.